Following on from our interesting day on Saturday, we decided to try out the children's Theatre on Sunday. Now I'm a big theatre fan, and it seems I'm passing on my love to my children. They loved to go to the theatre in South Africa. So they were very excited about our upcoming theatre trip, to see Robin Hood!
Now the actors are all children, some as young as 5-6 years old, but they were jolly good. The older lead actors were about 16. They danced and sang through 2 hours of merriment. And we all enjoyed it. Now the kids want to go to next production of Aladdin, so it seems they're hooked!
To change the subject a tad, today I went to the hair salon. Nothing that exciting I know you must be thinking, well yes, that may be so. But I just happen to hate going to the hair salon. And in the past 8 months since arriving in the States, I haven't stepped a foot into one. So yes, you can only imagine the current state of shapeless nothingness my hair style has been. In fact to call it a 'style' would be wishful thinking! So like it or not, it was time to pay my local salon a visit. I looked something like this.........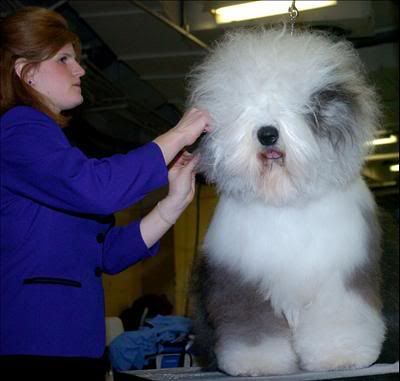 ...............really!!!
I think the reason I hate going to the salon, is mainly because I'm never sure how I want it cut, and then 9 times out of ten, I walk out looking nothing like I wanted to! Is it just me? Does anyone else ever feel like this?
Anyway, I ventured in and an hour later emerged feeling much lighter! Oh yes, it did feel nice to have a good trim! I can't remember the last time my hair was this short, but I do love it. Should have done it ages ago!!